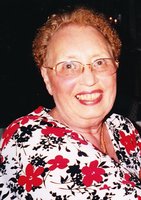 Jeanne Blackburn
Jeanne Blackburn (nee Surber), 81, of Libertyville, passed away on October 14, 2017 at her home. Jeanne was born in Chicago and had been a long time resident of Lake County. She will be remembered as a fun loving social lady.
Jeanne is survived by her daughter; Courtney (Kevin) Hoffmann, her grandchildren; Maya and Evie, her brother; Dan (Lana) Cassidy, her sisters; Sharon (Bernie) Whitaker and Sara Elaine (Lou) Karnavas and her nephew and nieces.
Jeanne was preceded in death by her husband; Richard Blackburn and her brother; Christian Cassidy.
Her family will receive friends Thursday October 19, 2017 from 4:00 - 6:00PM at McMurrough Funeral Chapel, 101 Park Place, Libertyville. If desired, memorial donations made to: The Orphans of the Storm, 2200 Riverwoods Rd. Riverwoods, IL 60015 would be greatly appreciated. Funeral information (847) 362-2626. Sign guestbook at libertyvillefuneralhome.com